It is Membership Renewal Time!!!
Loesje and I received a giant box from National Ike's containing the 2020 Membership Renewal forms.  In the past couple of days, we have stuffed and mailed nearly 500 envelopes.
We look forward to having another great year of Ike's, and to celebrating 75 Years of Ike's in Cedar Rapids.  Come join us.
Hunter Education for 2019
Our first Hunter Education class went well.  We had 20 students in attendance.  Look for more in the coming year.  Thanks to all who attended, to Dale Braun who led the class,  to Pat Jorgensen, and to Ron Lane of the Iowa DNR for making this possible.
Famous Course Coming to Ikes!
On September 28 & 29,
Cedar Valley Outfitters
 is bringing Massad Ayoob and his famous MAG/20 Classroom Course, 
Armed Citizen's Rules of Engagement
 to our humble Ikes Clubhouse.
If you have picked up a gun magazine or watched a firearms related TV show anytime in the last 20 years, you probably know
who Massad Ayoob is
. If not, let it be said he is a world renowned expert on the use of lethal force, a highly sought after expert witness, a shooting champion, a 
GUNS
magazine editor and an author of dozens of books and countless articles on firearms training and the use of lethal force.
Officers and Directors receiving IWLA Oath

Left to right: Bill Grams, Doug Becker, Dave Blankenship, Jan Carmer (Secy), Sue Wehmeyer (Tres), Stan Pfoff (Vice Pres), Bert Carmer, Dave Shema, Loesje Shema, Vicki Arnold (Iowa Division President), Dale Braun (Pres), Jeff Haycraft and Paul Nye. Absent from this picture is Neil Mittelberg.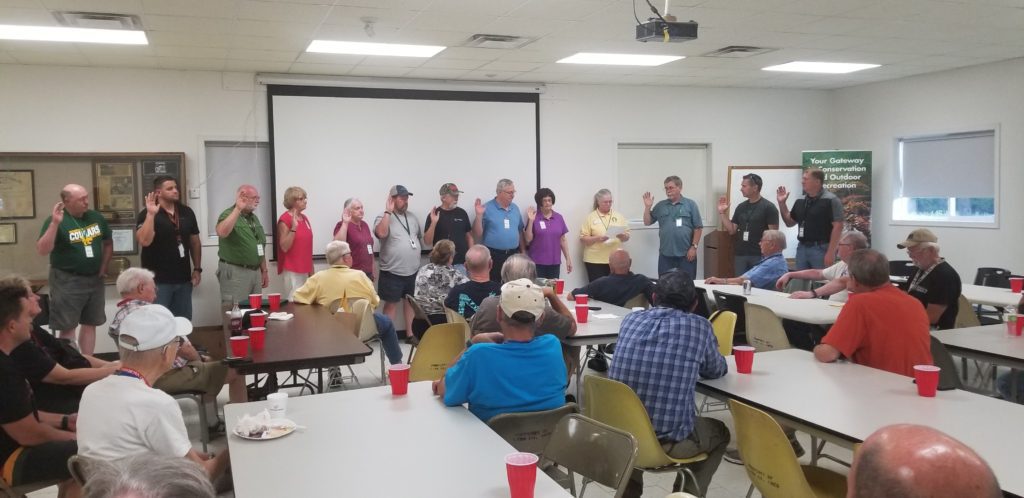 Voice Activated TRAP System Safety and Training
The Shotgun & Trap Committee is holding member training sessions for the VOICE ACTIVATED RELEASE TRAP SYSTEM including how it operates and how you can safely use it.
The training session takes 45 - 60 minutes and includes both classroom and field visuals and demonstrations.
Once you have received the training, you will be able to self-schedule and use the trap range at your convenience.  There will be a small fee for each round shot, for each person, to cover the cost of the targets and cover the cost of the system itself.
For convenience and those interested, there are four separate training sessions scheduled on our websites Clubhouse Calendar.
Training sessions will be added as requested.
Good News -- Indoor Pistol Range Upgrade is underway
Work on the Indoor Pistol Range is nearing completion.   The heated, concrete floor has been sealed, much of the HVAC equipment and ductwork has been installed.  The acoustic tile on the walls will soon be replaced with ballistic rubber sheet.  We are looking at an October date for its official reopening.
Save Our Streams (SOS) Program Coming
The Izaak Walton League's Save Our Streams (SOS) program training was held at our clubhouse the weekend of June 15/16, and was a success.  Attendees spent about half of each day working at the McCloud Run urban trout stream, learning how to perform simple water quality tests, how to gather samples from the water and from the stream-bed, and how to identify aquatic macro invertebrates.  Saturday, June 15th, saw a couple attend our workshop who had driven ten-hours straight from Mississippi, to attend the class.  Many of the attendees were from the general public.
 For more information about IWLA Save Our Streams program, see: https://www.iwla.org/conservation/water/save-our-streams
Missing your renewal form or need to make a change?  Download the form you need, print it out, and send it in!
Send us an email with any questions.