Save Our Streams (SOS) Program Coming
The Izaak Walton League's Save Our Streams (SOS) program helps people just like you check water quality in local creeks and streams so we can get a clear picture of water quality across the country—the first step in crafting water quality solutions that work. Our Ikes Chapter is hosting a Save Our Stream (SOS) water quality stream monitor training session the weekend of June 15th and 16th (one group Saturday and another group Sunday). The sessions are one day long and include a morning lecture session and a lunch (provided). In the afternoon, there will be stream-side instruction at McLeod Run on the sample collection process and finally a practical test to identify aquatic macro invertebrates. The successful student is then certified to become a stream monitor. It is expected that the monitor would independently select a local stream and test it for water quality two times a year and submit their findings to a national data base that is maintained by the Izaak Walton League. This is your chance to directly influence water quality in the biosphere that you and your family actually live. Friends, family and neighbors are welcome to attend. Please feel free to post this info at places that would reach other people you think might be interested. For more information about IWLA Save Our Streams program, see: https://www.iwla.org/conservation/water/save-our-streams
Registration details: 
We are having a General Member Meeting on Wednesday, May 29 at 7pm. Please try to attend. Several important topics to be covered. The agenda is below:
• Call to order, Pledge of Allegiance
• The Basics of Beekeeping and its Positive Impact on the Environment
 by Neil Mittelberg (Part 3 of 
Special Topics in Conservation)
. For more details, go to: 
https://www.izaakwalton.info/talks/
• Good news and update about Indoor Pistol Range 
• Info about upcoming July election for Board Members & Officers
• Financial status update
• Membership update
• News on our chapter's involvement in local, state and national matters
• Open time for questions and answers on any chapter issue
• Door prize/adjournment 
Introduction to NRA Pistol Qualification
The Outdoor Pistol Range Committee is happy to announce there will be a Kick-off meeting for the NRA Pistol Qualification Program on marksmanship.  The meeting will take place on June 4th, starting at 6:00 PM, in the Chapter clubhouse.   All participants from beginner to expert welcome.  The focus of this program is to introduce interested members to the NRA Pistol Qualification Program, a self-paced, self-scored program designed to develop proficiency in shooting with pistols.  The program promotes safety, gaining familiarity and improved proficiency with your pistol, and fun.   More details to follow.
Member Meeting Photos
This first one is a surprised Mike Wisnoski receiving this years Linn Co. Tobin Award from IWLA National Director Bill Arnold. Mike's efforts in volunteering for the President's position and leading the chapters resurgence with an all new Board of Directors and Officers was no small feat. The Tobin Award is presented annually to that member who has done the most to promote the IWLA ideals.
We also presented Mike with a Bio Gun Safe as a gift of appreciation for his hard work.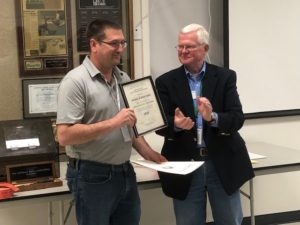 This second picture is of Emery Davis at last nights meeting. There were approximately 50 Ike's in attendance and the guests included Vicki Arnold, the Iowa Division President and IWLA National Vice-President and her husband Bill Arnold, who is both a IWLA State and National Director.
Emery Davis is the new Soil Health Coordinator for the Indian Creek Soil Health Partnership Project which intends to partner with farmers and landowners to provide technical support and financial incentives for increasing use of soil health practices and water quality improvement for all those living within the Indian Creek Watershed.  Persistent flooding and water quality concerns have led local governmental entities to embrace a cooperative planning approach which resulted in this partnership.  How does better soil health improve water quality?  A properly functioning soil profile not only grows better crops—it reduces soil erosion and fertilizer loss, infiltrates and holds more water after rainfall events, stabilizes soil temperatures, and stores greenhouse gases within its profile.
Emery grew up on a small family farm in Louisa county where he continues to farm with his dad. Prior to working for the Indian Creek Soil Health Partnership Project he was a Biologist for Pheasants Forever and a Natural Resources Worker for the Iowa DNR. Emery is an avid deer and bird hunter- most weekends in the fall he can be found bowhunting or following his bird dog in pursuit of pheasants and quail.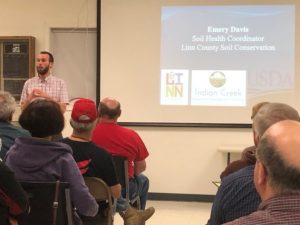 This photo was taken during Emery's presentation.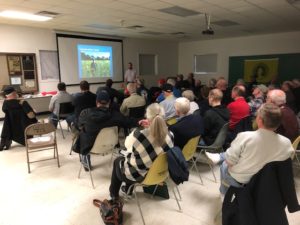 This last photo was taken yesterday afternoon and shows three "trespassers" on the grounds. The guy in the middle was doing his best to intimidate the guy on the left while at the same time, attempting to impress the lady on the right (in the grass).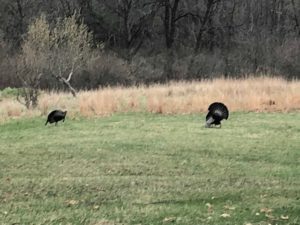 Missing your renewal form or need to make a change?  Download the form you need, print it out, and send it in!
Send us an email with any questions.
Come on in for your annual Safety Briefing to complete your renewal and pick up your 2019 range tags.
May 18th, Noon
June 1, Noon
June 15, Noon
Safety Briefings are now being given at the end of Range Tours -- you can attend the safety briefing on any Saturday that a tour is occurring.   The Safety Briefing occurs at Noon, following the Range Tour.
Gate Access Cards for those who have NOT attended a 2019 Safety Briefing have been turned off, as of March 27, 2019.
If you cannot make it to any of the scheduled safety briefings, please let us know  We will work with you to make sure you get the briefing!