FIRST SHOTS
August 24, 9am to 2pm
.22 long rifle shooting on the rifle range for youth
Free and open to the public
All are welcome!
Famous Course Coming to Ikes!
On September 28 & 29,
Cedar Valley Outfitters
 is bringing Massad Ayoob and his famous MAG/20 Classroom Course, 
Armed Citizen's Rules of Engagement
 to our humble Ikes Clubhouse.
If you have picked up a gun magazine or watched a firearms related TV show anytime in the last 20 years, you probably know
who Massad Ayoob is
. If not, let it be said he is a world renowned expert on the use of lethal force, a highly sought after expert witness, a shooting champion, a 
GUNS
magazine editor and an author of dozens of books and countless articles on firearms training and the use of lethal force.
July 27, 9:00am at Rifle Range
Eligibility: Anyone who has completed the Linn County Izaak Walton League's Rifle Small Arms Firing School, or who has proof of an NRA or CMP Competitor's number may compete in this match.  The minimum age is 12 years old.
Entry Fee: $5.00 (Payable by cash or check)
This match is not sanctioned by the NRA or CMP, but we will use NRA rules.
To register, or for information concerning the match, contact riflelciwla@gmail.com
Squadding: All matches will be squadded.  You may pick-up your squadding packet at the Rifle Range at 8:15am.  Squadding closes at 8:45am.
EMPTY CHAMBER INDICATORS:  ECI 'S will be required and will be available at the range for $ 1.50 each.
Rifles Allowed:  F-Open, F-T/R, Service Rifle, or Match Rifle.
Sights Allowed:  Service Rifle, iron sights or scope (4.5 Power Max); Match Rifle, iron sights or scope any magnification; F-Class, any magnification.
Scoring:   All competitors will be required to score.   Failure to complete scoring duties will result is disqualification.  Scorers may help the shooter to keep track of # of shots fired.  Scorers and spectators are not allowed to provide coaching or comments regarding shot placement. 
COURSE OF FIRE: 
27 July 2019 9:00 AM:
MATCH 1:       Unlimited sighting shots in 5 minutes, and 10 shots for record in 10 minutes, prone slow-fire.           
MATCH 2:       10 shots for record in 10 minutes, prone slow-fire.
MATCH 3:       10 shots for record in 10 minutes, prone slow-fire.
MATCH 4:       10 shots for record in 10 minutes, prone slow-fire.
The highest aggregate score of Matches 1 – 4 shall be the winner.      
Officers and Directors receiving IWLA Oath

Left to right: Bill Grams, Doug Becker, Dave Blankenship, Jan Carmer (Secy), Sue Wehmeyer (Tres), Stan Pfoff (Vice Pres), Bert Carmer, Dave Shema, Loesje Shema, Vicki Arnold (Iowa Division President), Dale Braun (Pres), Jeff Haycraft and Paul Nye. Absent from this picture is Neil Mittelberg.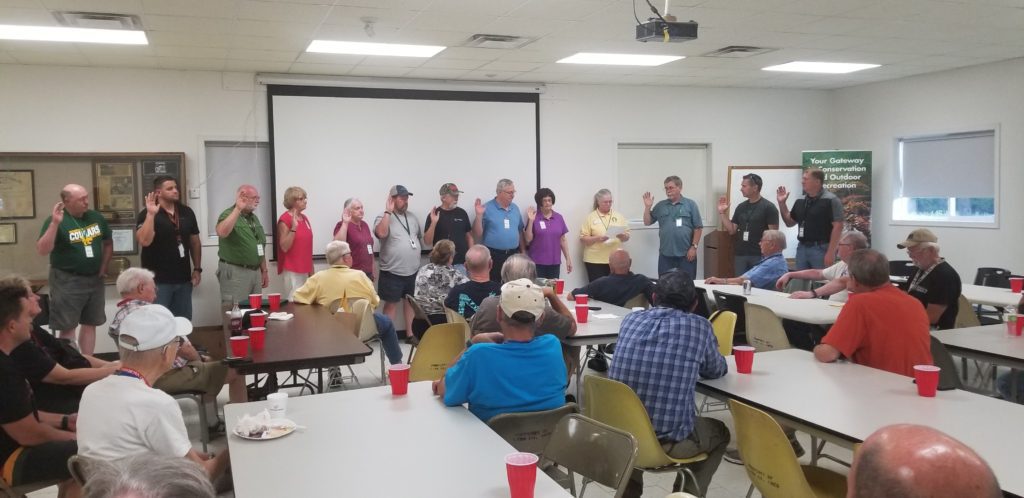 New Batch of Safety and Survival Classes
You can't predict when Evil will strike, when a marginalized individual will cross the threshold of sanity or when you or someone you love will be involved in a serious accident—BUT YOU CAN PREPARE FOR IT.
Voice Activated TRAP System Safety and Training
The Shotgun & Trap Committee is holding member training sessions for the VOICE ACTIVATED RELEASE TRAP SYSTEM including how it operates and how you can safely use it.
The training session takes 45 - 60 minutes and includes both classroom and field visuals and demonstrations.
Once you have received the training, you will be able to self-schedule and use the trap range at your convenience.  There will be a small fee for each round shot, for each person, to cover the cost of the targets and cover the cost of the system itself.
For convenience and those interested, there are four separate training sessions scheduled on our websites Clubhouse Calendar.
Training sessions will be added as requested.
Good News -- Indoor Pistol Range Upgrade is underway
Work has begun on restoring the Indoor Pistol Range so we can reopen in the fall.  The gravel floor is now only a memory, being replaced by a nice, new, concrete floor.  Prior to pouring the concrete, Dave Blankenship's Venture Crew spent less than a day installing the plastic tubing that will be used for the in-floor heating system.  The concrete is poured, the embedded plumbing has been pressure checked and is good to go.
Installation of the new ventilation system has begun, with sheet-metal work underway.  Look for a reopening of the indoor range coming this fall.
Save Our Streams (SOS) Program Coming
The Izaak Walton League's Save Our Streams (SOS) program training was held at our clubhouse the weekend of June 15/16, and was a success.  Attendees spent about half of each day working at the McCloud Run urban trout stream, learning how to perform simple water quality tests, how to gather samples from the water and from the stream-bed, and how to identify aquatic macro invertebrates.  Saturday, June 15th, saw a couple attend our workshop who had driven ten-hours straight from Mississippi, to attend the class.  Many of the attendees were from the general public.
 For more information about IWLA Save Our Streams program, see: https://www.iwla.org/conservation/water/save-our-streams
Introduction to NRA Pistol Qualification
The Outdoor Pistol Range Committee is happy to announce the NRA Pistol Qualification Program on marksmanship is now underway.
Contact the Outdoor Pistol Range committee for further information.
Member Meeting Photos
This first one is a surprised Mike Wisnoski receiving this years Linn Co. Tobin Award from IWLA National Director Bill Arnold. Mike's efforts in volunteering for the President's position and leading the chapters resurgence with an all new Board of Directors and Officers was no small feat. The Tobin Award is presented annually to that member who has done the most to promote the IWLA ideals.
We also presented Mike with a Bio Gun Safe as a gift of appreciation for his hard work.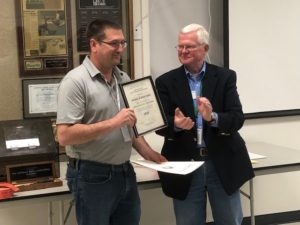 This second picture is of Emery Davis at last nights meeting. There were approximately 50 Ike's in attendance and the guests included Vicki Arnold, the Iowa Division President and IWLA National Vice-President and her husband Bill Arnold, who is both a IWLA State and National Director.
Emery Davis is the new Soil Health Coordinator for the Indian Creek Soil Health Partnership Project which intends to partner with farmers and landowners to provide technical support and financial incentives for increasing use of soil health practices and water quality improvement for all those living within the Indian Creek Watershed.  Persistent flooding and water quality concerns have led local governmental entities to embrace a cooperative planning approach which resulted in this partnership.  How does better soil health improve water quality?  A properly functioning soil profile not only grows better crops—it reduces soil erosion and fertilizer loss, infiltrates and holds more water after rainfall events, stabilizes soil temperatures, and stores greenhouse gases within its profile.
Emery grew up on a small family farm in Louisa county where he continues to farm with his dad. Prior to working for the Indian Creek Soil Health Partnership Project he was a Biologist for Pheasants Forever and a Natural Resources Worker for the Iowa DNR. Emery is an avid deer and bird hunter- most weekends in the fall he can be found bowhunting or following his bird dog in pursuit of pheasants and quail.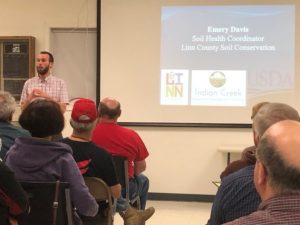 This photo was taken during Emery's presentation.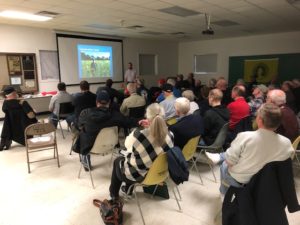 This last photo was taken yesterday afternoon and shows three "trespassers" on the grounds. The guy in the middle was doing his best to intimidate the guy on the left while at the same time, attempting to impress the lady on the right (in the grass).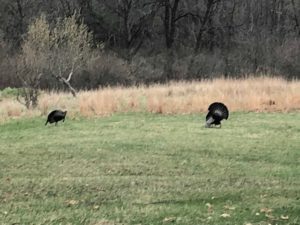 Missing your renewal form or need to make a change?  Download the form you need, print it out, and send it in!
Send us an email with any questions.