It is Membership Renewal Time!!!
By now, you should all have received your 2020 membership renewal form in the mail.  Many have already returned theirs and have renewed for 2020.  We thank you for coming back for another year.
IF YOU MISPLACED your renewal slip (or maybe your dog ate it), never fear.  Simply send a check in the amount of $150 for an individual membership, or $210 for a family membership, made out to Linn County IWLA.  Drop that in the mail to our PO BOX (Izaak Walton League, PO Box 8509, Cedar Rapids, IA, 52408-8509).  We don't need the pink card from the mailing to renew you, just your name(s), type of membership desired, and payment.  As soon as we get your payment, you'll be ready to go for next year.
"Second Notice" reminders have gone out to members who had not renewed by the end of 2019.
Per our By-Laws -- if we don't have your renewal in-hand by February 1st, your membership will be considered lapsed, and you will no longer have access to our facilities.  We'd hate to see you go and miss our 75th anniversary!  (Of course, you can simply pay your dues and re-join at any time, we'd be happy to have you back)!
We look forward to having another great year of Ike's, and to celebrating 75 Years of Ike's in Cedar Rapids.
Indoor Pistol Range is OPEN.
The indoor pistol range is now open for shooting!!!  After a long year of renovation, the range re-opened on Saturday, December 7th, at 8:00 AM.
Currently, the range is open SATURDAYs, from 8:00 AM until Noon.  There will be Ike's Range Safety Officers present to make sure you have a safe outing.
We have a number of styles and sizes of targets available for sale at a reasonable price, or you may bring your own.
Handguns up to and including .45 caliber are welcome, as well as rifles chambered in .22LR.  Ammunition is limited to Lead, plated-Lead, FMJ, and frangible ammo.  With the exception of .22LR ammo, NO hollow point ammo is acceptable for use in the indoor range.
We hope to see you soon.
Saturday, March 28th,  beginning at NOON, we will have an official "Grand Opening" ceremony where the range will be officially be dedicated in the name of its benefactor, James Songster,  III.  This will coincide with our March member meeting and word has it that there will be pulled pork sandwiches and other tasty goodies available to all who come to the Grand Opening and the meeting!
The Pistol Range Committee is finalizing how we will operate the indoor range on a "use as you wish to" basis.  STAY TUNED.
To shoot at the range, there is a nominal $10 fee, per person.  The fee, at present is "per visit."  If the range is busy, with people waiting for an open lane in the ready room, please limit your shooting to an hour.  If the range is not busy, and there are open shooting lanes, you may extend your time on the range.  Please be courteous in your use of range time.
The range is for member use.  It will not be a public shooting range.
We look forward to fully opening the range to use by the membership.
We now have an Indoor Range Calendar on our Calendar page so you can see if there are any activities occurring at the indoor range.  Once we open the range to member use at their discretion, we will add a self-scheduling capability so you can reserve a time to shoot.  When we add the self-scheduling feature, we will need to have a GMAIL address associated with those who wish to use the range and self-schedule on the calendar.
Winchester/NRA Marksmaship Pistol Qualification Program
Starting with a Kickoff Meeting in the Clubhouse on Tuesday, January 14, 6:00 PM, your LC IWLA is offering a class for the Pistol Qualification section of the Winchester/NRA Marksmanship Qualification Program.
This is defined by pages 4 and 5 of this referenced link=>
https://mqp.nra.org/documents/pdf/education/training/marksmanship/qualbook.pdf
The class will run for 6 consecutive weeks, beginning on January 21st and going through February 25th.  It will be on Tuesday nights from 6 PM until 8 PM, in the Indoor Range.  There may be a one to two-week extension for make-up shooting.
Included will be the 6 courses of fire starting with paper plates at 5 yards and expanding to AP-1 targets at 10 yards firing: one and two handed; strong and weak handed; slow and rapid (timed) fire.
This class is intended for all from beginner to more advanced shooters who want to get in some structured practice.  Members who started the course last summer may also use this opportunity to complete their qualification.
If interested, please send a note to this e-mail:  Opr.LCIWLA@gmail or just come to the January 14th meeting.
All safe pistols, .22 LR or center fire up to and including  .45 caliber, revolver or semi-auto, are permitted.   Pistols chambered in .22 LR suggested for use in the course, as ammunition is relatively inexpensive.  It is highly recommended that the same pistol be used throughout the class.
Members, family, and guests are welcome. Unfortunately, we cannot make this course available to the general public.
COST:  There will be a one-time charge of $10 for targets. If you are utilizing this class to finish up from this past summer we can tailor what you need here.   Range time can be paid for with a one-time charge of $50 or you can pay $10 per evening as you go.
Please note:   The minimum number of rounds fired to complete this course is 570 and you supply your own ammunition.
We are also trying to gauge the level of interest for incorporating air gun qualification as part of the course as defined in pages 10 - 13 of the qualification book linked above.  Please also reply and/or attend the Kickoff Meeting with any interest in this offering.
Planning has begun for our second Hunter Education class, most likely to occur in March, 2020.
Officers and Directors receiving IWLA Oath

Left to right: Bill Grams, Doug Becker, Dave Blankenship, Jan Carmer (Secy), Sue Wehmeyer (Tres), Stan Pfoff (Vice Pres), Bert Carmer, Dave Shema, Loesje Shema, Vicki Arnold (Iowa Division President), Dale Braun (Pres), Jeff Haycraft and Paul Nye. Absent from this picture is Neil Mittelberg.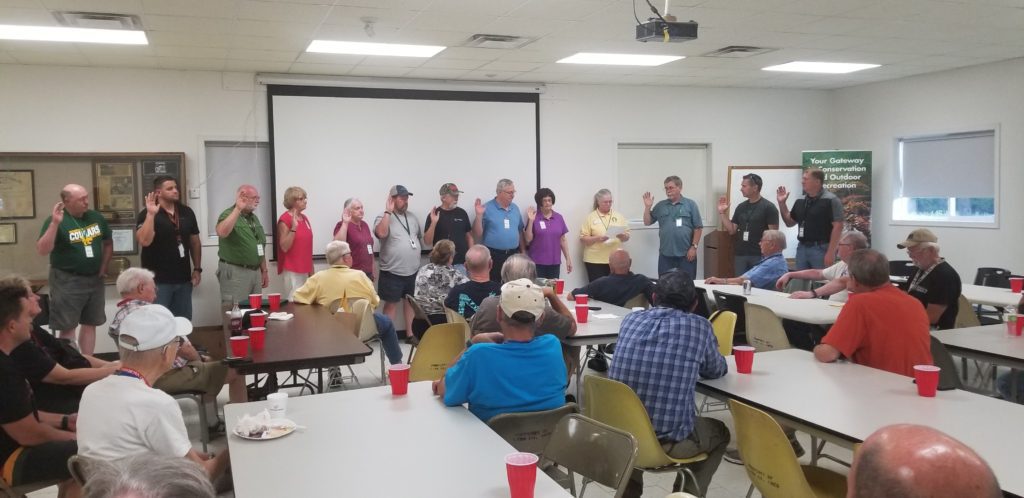 Voice Activated TRAP System Safety and Training
The Shotgun & Trap Committee is holding member training sessions for the VOICE ACTIVATED RELEASE TRAP SYSTEM including how it operates and how you can safely use it.
The training session takes 45 - 60 minutes and includes both classroom and field visuals and demonstrations.
Once you have received the training, you will be able to self-schedule and use the trap range at your convenience.  There will be a small fee for each round shot, for each person, to cover the cost of the targets and cover the cost of the system itself.
For convenience and those interested, there are four separate training sessions scheduled on our websites Clubhouse Calendar.
Training sessions will be added as requested.
Save Our Streams (SOS) Program Coming
The Izaak Walton League's Save Our Streams (SOS) program training was held at our clubhouse the weekend of June 15/16, and was a success.  Attendees spent about half of each day working at the McCloud Run urban trout stream, learning how to perform simple water quality tests, how to gather samples from the water and from the stream-bed, and how to identify aquatic macro invertebrates.  Saturday, June 15th, saw a couple attend our workshop who had driven ten-hours straight from Mississippi, to attend the class.  Many of the attendees were from the general public.
 For more information about IWLA Save Our Streams program, see: https://www.iwla.org/conservation/water/save-our-streams
Missing your renewal form or need to make a change?  Download the form you need, print it out, and send it in!
Send us an email with any questions.