Latest News
Storm Update 08-18-2020
Like everything else in Linn County. the Ike's chapter was no exception to the storm on August 10. The trees took a direct hit causing significant damage to the lower ranges and endangering many other areas.
The pistol range is extensively damaged from the large pines and other surrounding trees. Numerous holes in the roof and broken skylights. The newly installed target retrieval system is wrecked and a portion of the baffle is missing.
The rifle range cover has one tree on it but that tree punched numerous holes in the roof and broke a number of skylights. The baffle at the 50-yard line has broken bracing on the back side. I'm amazed it stayed upright.
The air gun range was not spared either. The cover is severely damaged.
The action range and adjacent building were spared.
The James Songster Indoor Pistol Range has a small hole in the roof over the garage area, but otherwise appears to be intact.
The chapter house is unscathed and while the trap area is free of trees, we are NOT permitting its use.
The front yard archery area is OFF LIMITS due to the tree and falling limb hazards.
THEREFORE, we have closed the facility to only essential people at this time. So even if the gate is opened please DO NOT ENTER the grounds. We are working closely with our insurance company and will begin structural analysis, debris clearing and repair using professional people as soon as possible.
Please bear with us as we begin the cleanup and repair process.
Dale Braun
President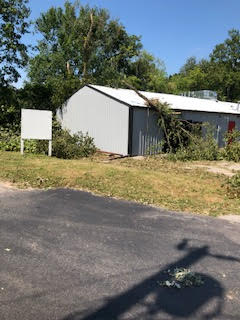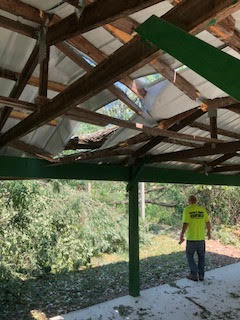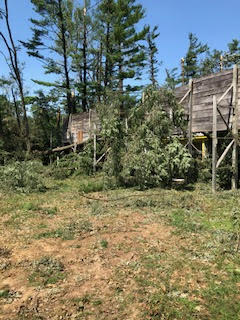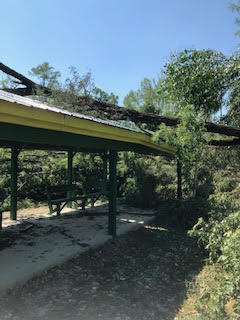 Rifle Range Maintenance Update 08-08-2020
Phase one of our rifle range upgrade is completed.  The concrete blocks which were located at the 100-yard line have been removed and replaced with a bullet-friendly alternative.  The concrete blocks which held the target frames were a source of possible ricochets, and could have caused bullets to go outside the boundary of the range.Those blocks are gone, having been replaced with ground-level timbers and gravel.  The existing target frames will still work as designed.Phase two — removing the tires at the 100 yard line — is now underway.  The berm will be regraded and covered with wood chips to help prevent erosion.A big thanks to John Welton and his skid loader skills.Expect to see periodic closures until Phase two is complete.  We will need help removing the tires.  Look for a work day coming to an Ikes near you, soon!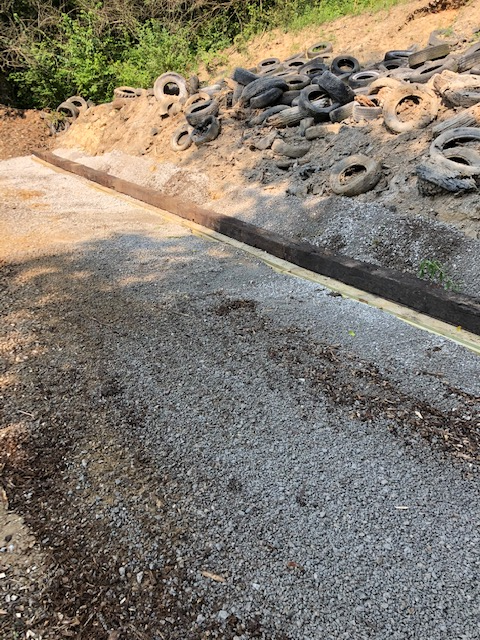 Venture Crew – mini work day at Ikes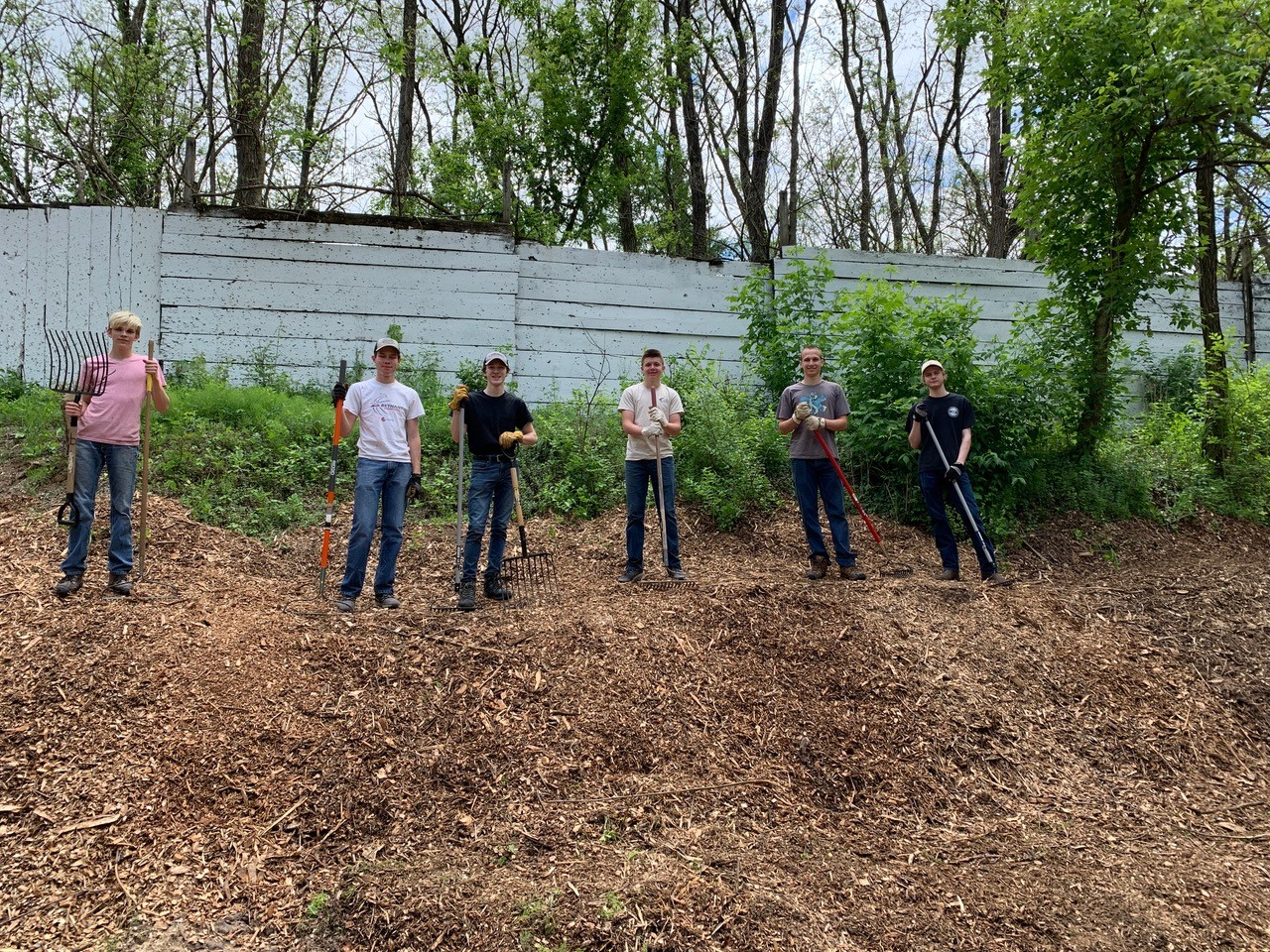 Venture Crew — mini work day at Ikes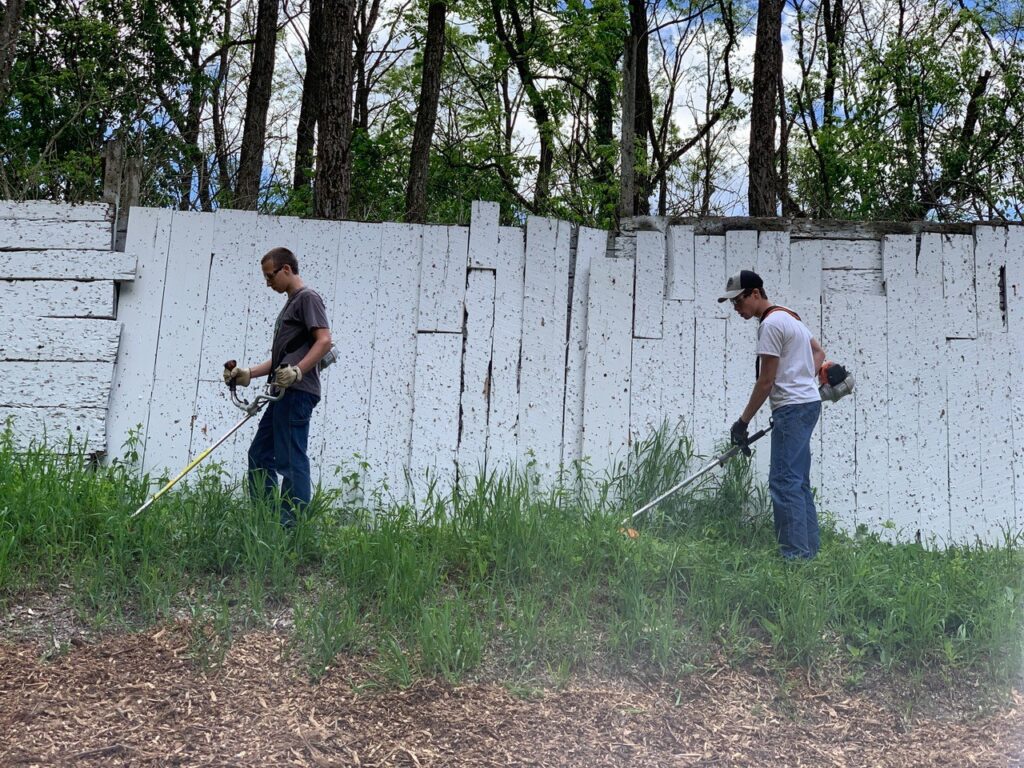 Venture Crew — mini work day at Ikes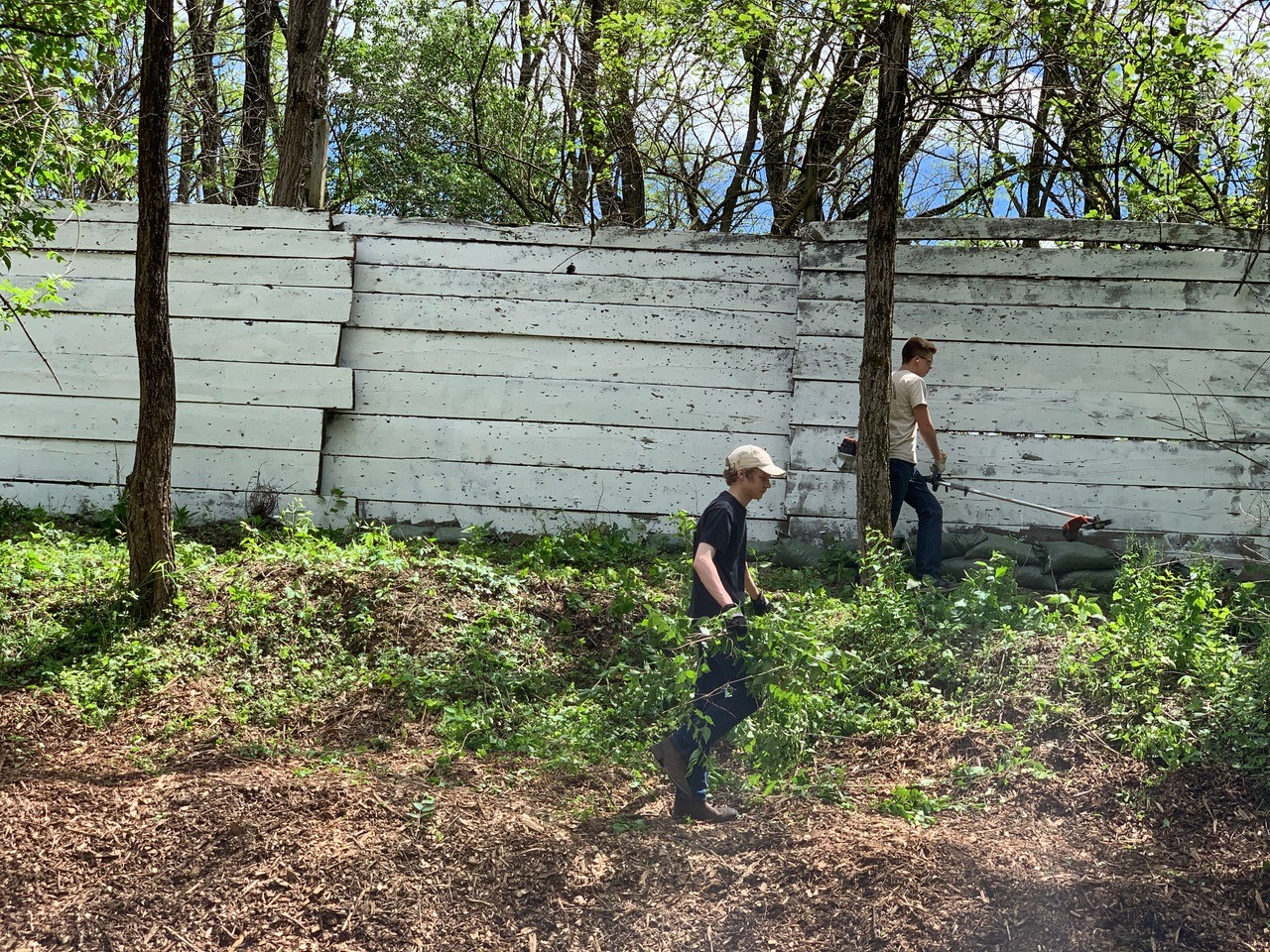 Venture Crew — mini work day at Ikes
Dave Blankenship's Venture Crew lent a HUGE hand at our Outdoor Pistol Range on Friday, May 29th.  Armed with weed whackers, pitch forks and lots of enthusiasm, they cleared the range of weeds and assisted John Welton as he was distributing wood chips on the range.
Rimfire Sporter Program
The Rimfire Sporter Program is starting this summer, when current public health restrictions are lifted. This is a developmental marksmanship program for members/family ages 12 and up.Our Rimfire Sporter Program will provide a fun and economical way to develop your marksmanship skills. We'll fire from prone, sitting/kneeling, and standing positions. All you need is a magazine-fed .22LR rifle that has a 5-shot capacity. To keep your costs low and to ensure a level playing-field, no "tricked-out" rifles are allowed. You can begin now with our self-paced video tutorial, which will provide the knowledge for you to begin practicing on your own. The video series can be found in our Members Only area.We'll follow-up with an instructional practice match, and finally a series of fun rifle matches.Please direct any questions to RifleLCIWLA@gmail.com.
We hope to see you at the range!
Hunter Education 
Watch this space for future announcements regarding our Hunter Education programs.  At present, there are no plans to hold classes until the COVID-19 virus subsides, and we're able to hold group meetings once again.
Read More & Register
2020 Election Update — 08-08-2020
The July 2020 member meeting included our annual election of officers.  Up for grabs were the offices of President, Vice President, Secretary, Treasurer, and three of the nine Board Member slots.Officers are elected to one-year terms, the three Board members were elected to three-year terms.The results:Dale Braun — PresidentStan Pfoff — Vice PresidentSue Wehmeyer — TreasurerJan Carmer — Secretary Dave Blankenship — DirectorJoe Korch — DirectorBill Grams — DirectorThanks to the candidates, and thanks for your votes of confidence in your leadership. 
Save Our Streams (SOS) Program Coming
The Izaak Walton League's Save Our Streams (SOS) program training was held at our clubhouse the weekend of June 15/16, and was a success.  Attendees spent about half of each day working at the McCloud Run urban trout stream, learning how to perform simple water quality tests, how to gather samples from the water and from the stream-bed, and how to identify aquatic macro invertebrates.  Saturday, June 15th, saw a couple attend our workshop who had driven ten-hours straight from Mississippi, to attend the class.  Many of the attendees were from the general public. For more information about IWLA Save Our Streams program, see: https://www.iwla.org/conservation/water/save-our-streams
Membership Forms
Missing your renewal form or need to make a change?  Download the form you need, print it out, and send it in!
Send us an email
with any questions.