Save Our Streams - SOS - classes

I'm excited to let you know that the Izaak Walton League of America will be offering half-day training field days at three locations around Iowa to complement our online Save Our Streams training program! Attending a field day in combination with participating in our online training will allow you to complete your SOS certification this fall. Apologies for the late notice. We gave priority to our current online training participants before opening up the invitation up to a broader audience, and class sizes are limited.
Going through the online training videos will be a prerequisite for attending a field day (don't forget the short 15-minute intro to biological monitoring video), as the online training videos will cover important background and contextual information that you'll need at the field day. You do not need to pass the macroinvertebrate exam before attending a field day.
You will be able to choose a time slot of either 9:00 AM to 12:00 PM or 1:00 PM to 4:00 PM depending on what works best for you. You only need to attend one field day session. Out of consideration for other potential participants, please do not register for more than one session, as reservations will be limited to only 10 attendees per session. There is a $5 charge for attendance, which is only to help offset costs of materials you will receive at the training. The Izaak Walton League does not make any profit from SOS trainings.
Please pick one session from the list below if you're interested in pursuing a Save Our Streams Certification in conjunction with the online training modules:
Measures will be taken to reduce risk of transmission of COVID-19: we will be using extra gear to minimize sharing and close contact, hand sanitizer will be provided, masks will be required, social distancing will be observed whenever possible, and attendance will be capped at 10 attendees to limit the group size. If you would like to be trained and certified in SOS but are uncomfortable with in-person activities at this time, we plan to do more in-person trainings next year as well.
Please contact me with any questions or concerns you may have.
Best,
Zach
Zach Moss
Save Our Streams Coordinator, Iowa
Izaak Walton League of America
(515)-249-7213
Join the Clean Water Challenge!
Coming Soon to your Linn County Ikes Chapter
Early 2021 -- NRA Basic Pistol Classes
Taught by Ikes members
NRA certified instructors
Includes classroom and live fire
Low-cost -- Covers cost of materials
Written test and Live Fire tests
When you pass -- your completion certificate can be used to apply for your Iowa CCW permit.
If you're qualified and wish to help, send us a message at ikesmembership@gmail.com.
---
Other classes to follow.  Watch this space for additional information.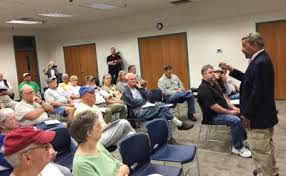 Safety and Survival Classes
Regardless of your personal political ideology or wherein you think the fault for it lies, civility and open discourse is rapidly departing from our society. In fact, many people would submit that the Civility train has pretty much already left Tolerance Station. Into this equation dial the innate unpredictability of human behavior when under duress, the immense peer pressure on today's young people, rampant drug use and and our constant and futile attempts to multitask while we are driving, hunting or while on a ladder. When all of these things are considered concomitantly, it is clear that the potential for serious injury whether it be intentional or accidental is ever-present.
You can't predict when Evil will strike, when a marginalized individual will cross the threshold of sanity or when you or someone you love will be involved in a serious accident—BUT YOU CAN PREPARE FOR IT.
Our Ikes is offering a series of 3 courses created and taught by Mike McElmeel. They are designed to help you survive a variety of life threatening situations caused by the chimera of Chance, Intent and Inattention.  Classes are open to members and non–members alike. The minimum age to enroll is left to the parents' discretion, but generally speaking a guideline would be approximately age 14 due to comprehension level and physical ability.
These classes are available individually or in a 3–Pack for a special reduced price.
Future Dates:  Active Shooter Response
($75)
The purpose of this course is to better prepare you for an Active Shooter/Armed Intruder (AS/AI) event. This is both a lecture and a physical, hands on course open to all skill levels, ages 14 and up. The following topics will be covered:
• Active Shooter History
• Effective Communication Under Stress
• The Plan (Evade, Barricade, Respond)
• Survival Mindset/Mental Preparation
• Team Coordination
• Trauma Care
• The aftermath
• Scenarios for practice situations
Future Dates: Casualty Care Part I ($75)
You could be confronted with a serious acute injury sometime at the range, in the woods, while driving or even on a sunny weekend afternoon while working in the yard. It could happen today, tomorrow or next month. Take this class and take the very first step in being prepared to intervene and save the life of a loved one or even your own. Immediate Casualty Care Part I is a hands on class that will show you how to safely approach a victim at an accident scene, control bleeding by applying pressure dressings, optimize victim positioning for breathing and start you on building your own trauma kit. This is not a "First Aid" course on how to apply Band–Aids. You will learn actual real world skills about injury assessment, scene management and treatment modalities.
Future Dates:  Casualty Care Part II ($75)
This class will build upon the skills learned in Casualty Care I and will develop additional assessment procedures for non life threatening injuries, additional treatment options for prolonged field care, triaging skills and techniques for moving and securing patients. You do not necessarily need Casualty Care Part I to proceed to Casualty Care Part II.
The class price includes food that will be brought in (pizza, sandwiches, etc.) between the two Friday classes and snacks that will be available during a break for Saturday's class. The class is open to members and non–members alike.  If you have specific questions about the course content, contact Mike directly at:
mikeeighteenzulu@gmail.com
All classes are taught by Mike McElmeel. Mike is a Paramedic, Emergency Medicine Educator, Law Enforcement Officer, and is retired from the US Army Special Forces. Additionally Mike is certified to teach several Self-Defense & Active Shooter Training programs. He is an experienced and skilled instructor and has taught at our Ikes before. Mike will engage each student individually, is an excellent communicator and is able to break down complicated problems into processable components.